Future of EV Chargers & Charging Solutions
Electric vehicles (EVs) are becoming increasingly popular in India, and with that, the need for EV chargers and charging solutions is also on the rise. There are different types of EV chargers, including AC & DC chargers, and they can be classified based on their charging speed and power output.
EV chargers & charging station manufacturers in India are responsible for designing, developing, and manufacturing EV charging stations and charging solutions. Some of the leading EV charger manufacturers in India include ChargePoint, Fortum, and Delta Electronics. Charging solutions startups include CharzNet (www.charznet.com) and Bolt charging stations.

Challenges of EV in 2023
One of the main challenges with EVs is their limited range, and this is where EV chargers and charging stations come into play. The availability of charging stations allows EV owners to adapt and embrace them in their daily commute. The charging stations can be found in various places such as at homes, workplaces, public spaces, and on highways.
Public charging stations are publicly available and located where electric vehicles can be charged. These can be found in various locations, such as public parking spaces, shopping centers, and offices. In India, the government has taken various steps to promote the adoption of electric vehicles. They have set a target of having 30% of all vehicles on Indian roads be electric by 2030. To achieve this goal, the government has been promoting the installation of EV charging stations across the country.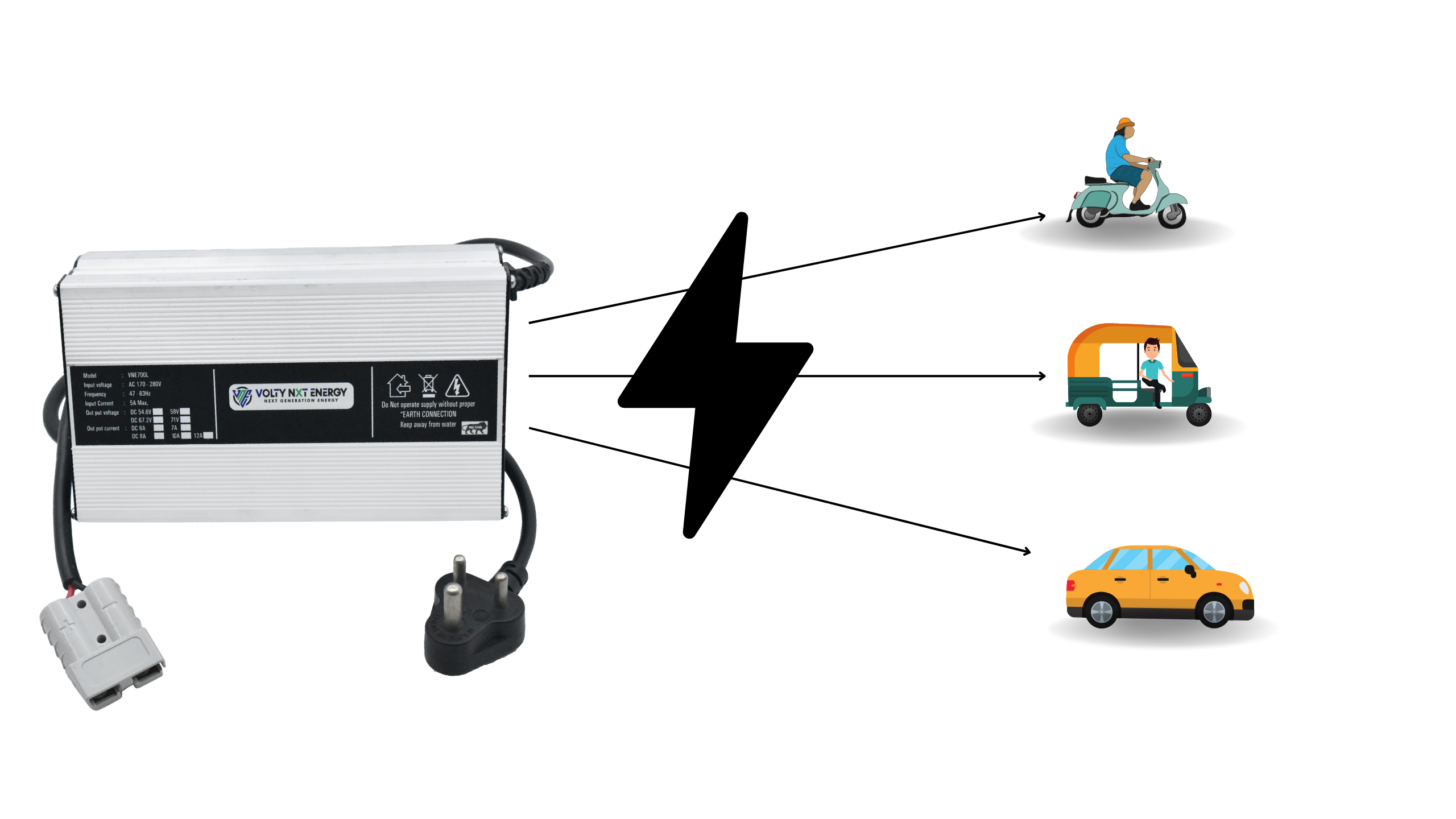 Companies like CharzNeT are taking the lead in increasing the number of EV charging solutions companies in India. Volty is one of the major contributors in designing and manufacturing EV chargers and charging stations, which enabled major players in India to establish EV charging solutions. EV owners can use different technologies, such as AC and DC charging stations, to charge their EVs.
Contributing to EV Future
EV is the future, and there is no doubt about it. Volty has a vital role in contributing the most to the EV ecosystem. Our chargers and charging stations allow society and EV owners to embrace the power of electric vehicles. Explore our EV charging solutions!
Volty Contribution Essence of EV Batteries in Society
Another critical aspect of EV charging is the battery technology for electric vehicles. The most common type of battery used in EVs is the Lithium-ion battery. Lithium-ion batteries are known for their high energy density and long cycle life. They are relatively lightweight and compact, making them ideal for EV use. However, there are also other types of batteries, such as lead-acid batteries, which are commonly used in electric bikes and e-rickshaws.
Delivery partners and cost-effective, eco-friendly alternatives to traditional gasoline-powered bikes widely use electric bikes. Electric bikes and e-rickshaws are also becoming increasingly popular in India. These vehicles are powered by batteries and require charging. The battery charger for electric bicycles and e-rickshaws differs from the charger for EVs. The charger for electric bikes and e-rickshaws is typically a Lead-Acid battery charger, which is different from the Lithium-ion battery charger used in EVs.
Expanding EV Chargers & Batteries
Companies specializing in EV charging solutions and two-wheeler and three-wheeler chargers are likely to see growth in the market. Overall, the development of the EV market in India is expected to drive the demand for various EV charging solutions and related products. Tata Motors, a leading Indian automotive company, has been making efforts to develop electric vehicles (EVs) for the Indian market.
In 2018, the company launched its first EV, the Tata Tigor EV, for government and fleet customers. In 2019, Tata Motors unveiled the Tata Nexon EV, the company's first electric SUV, available for retail customers. The company has also announced plans to launch several more electric models in the coming years as part of its commitment to the Indian government's goal of having 30% of vehicles on the road be electric by 2030.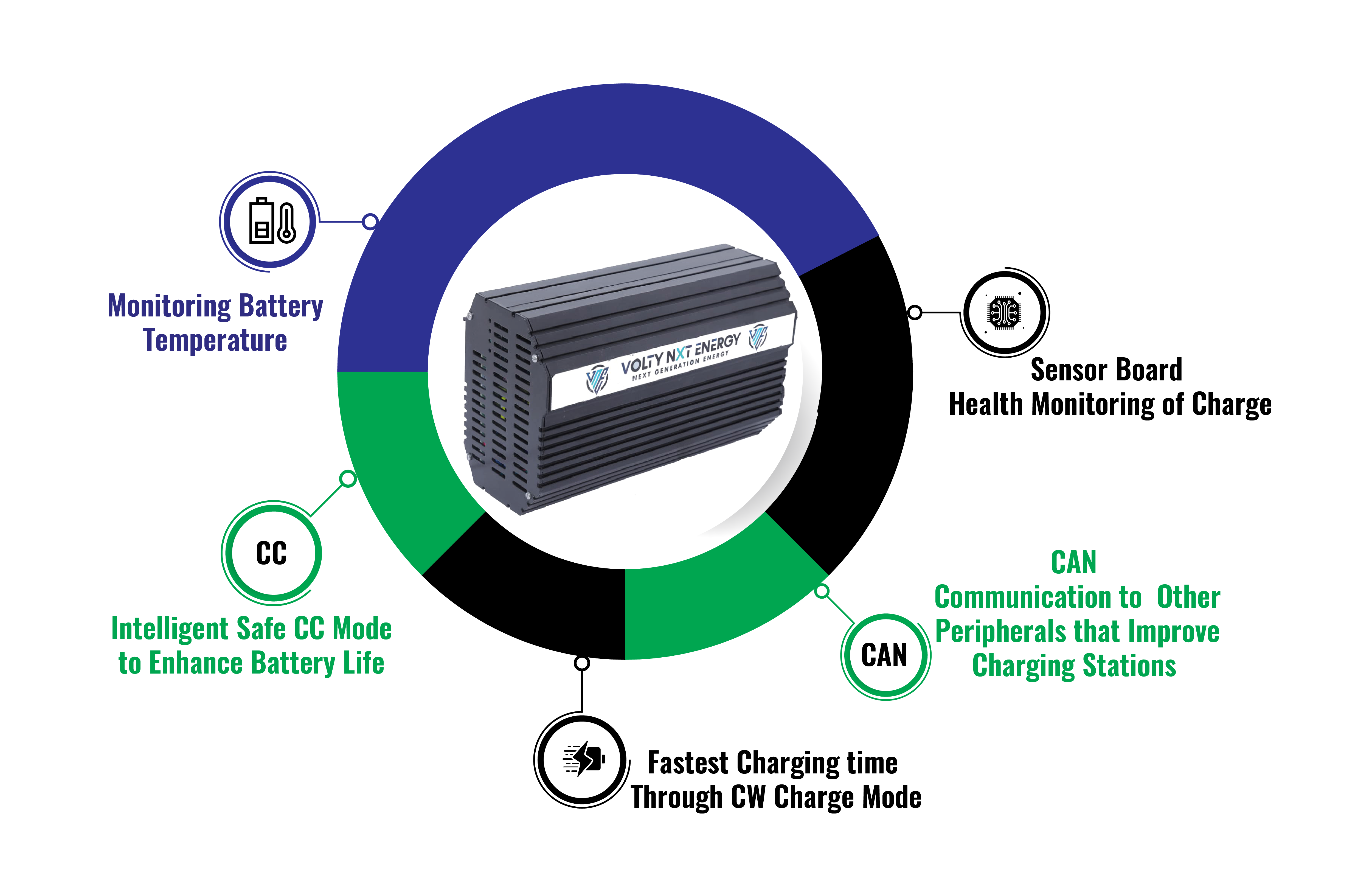 The company's focus on expanding its network of charging stations, developing fast EV charging technology, and partnering with organizations to install EV charging points, will help to make EVs more accessible and convenient for consumers. Additionally, with the rise of EV charger manufacturers in India, the demand for charging infrastructure is also going to increase.
Volty, Contributing to Future
The battery technology used in EVs and electric bikes is also essential for EV charging. Lithium-ion batteries are commonly used in EVs, while lead-acid batteries are widely used in electric bikes and e-rickshaws. With the increasing popularity of electric vehicles and bikes, the demand for EV charging solutions will continue to grow in India.